SumUp terminal troubleshooting
Common problems and fixes for the SumUp terminal
We strongly recommend subscribing to the SumUp status page. You can configure it to receive emails or texts whenever a widespread incident is reported and be updated automatically when a fix is released!
1) Refunds can't be made through SumUp from the Goodtill POS: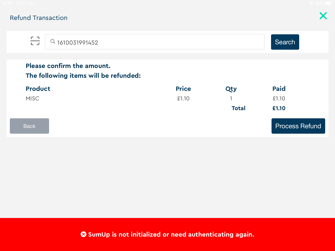 This is something that has to be set up from the backoffice. You can do this by going to Apps > SumUp > select Connect SumUp. It will ask you to login to your SumUp account, so be sure to have your SumUp login details handy.
2) The Goodtill POS can't find the SumUp terminal
Please first check that the Bluetooth settings on the iPad itself are turned on.

Please also ensure that the Goodtill POS app has permission to access Bluetooth. To check this go to the Settings on your iPad > Privacy > Bluetooth > Enable for Goodtill POS.

Ensure the SumUp device is fully charged - low battery can affect the connectivity.

Reset the reader by following the steps here
For more information on the SumUp air reader please visit the page here.