Table Layout
The table layout is how you customize the table feature on the front-end (App on the iPad). This is how you will see your tables on the app. You can have different table layouts for different registers, such as for upstairs, outside or for a pop-up event for example.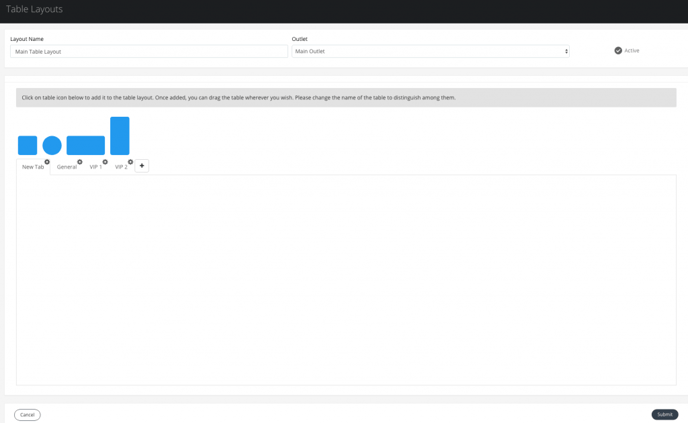 How to create a Table layout
To assign orders to tables, the layout must be created first which can be done in a simple and similar way to the selling layout. In the Setup tab, the Table Layouts option is where this can be found. Click the edit icon to edit a current table layout or click on the '+Add new table layout' and you will be presented with the screen shown below.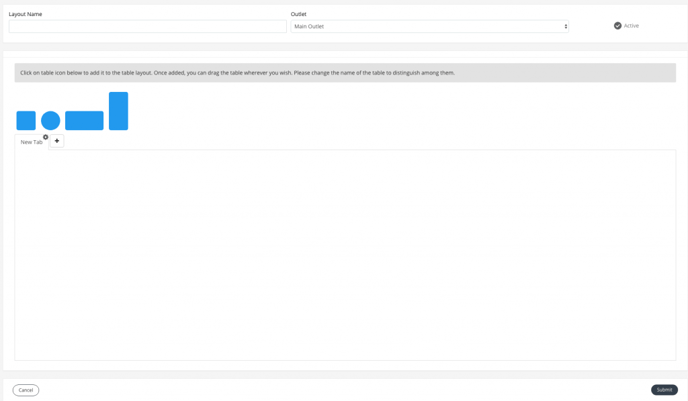 You are able to enter a name for your table layout and assign it to whichever outlet you wish.
How to use and edit the Table layout
To add a new table to your layout, please click on the preferred table and it will copy this over to your layout screen.
You are then able to click, drag and drop the table to mimic your store layout as you wish.
You are also able to change the name of the table by clicking on the gear icon. Please input your table name and click on the gear icon again to hide the text field.
Please do not forget to click 'Submit' at the bottom of the page to save your work.