Selling Giftcards/Vouchers
This section will allow you to sell vouchers through your Goodeats platform.
Please note that if you'd like to enable the redemption of Vouchers on your Goodeats platform, you'll need to email pos.billing.uk.ie@sumup.com to request the activation.

Click Update Gift Card/Voucher.
If you do have the module enabled, it will give you a list of different vouchers, and you can choose how much to sell them for.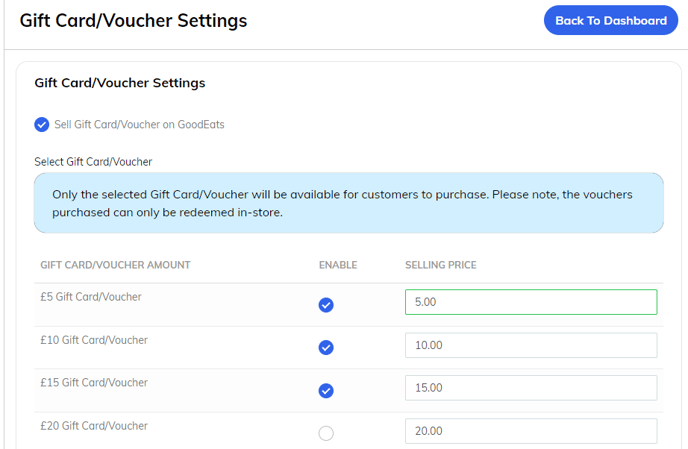 These will then automatically be added to your Goodeats Display Layout under a "Giftcards" section.
When a customer orders a gift card, it will be confirmed in the SumUp POS back office once the order is accepted and completed on the Web section on your POS app or via the Goodeats terminal. Once confirmed the customer will receive an email with the voucher code including a QR code, which can then be used in store.
Redeeming instore
To redeem in store, make sure you have the Voucher option enabled as a method of payment by going on the app to Settings > Payment Settings > Enable Voucher.
Then just add the items the customer wants to purchase to the order. Click Pay when ready then click on Voucher as the payment option.
(If the customers require a specific amount or the value of the sale is greater than the voucher to be used click inside the Amount Tendered Box.)
Input the Voucher ID and click Validate.
For more information about how Vouchers work please click here .