Global Settings
The global settings can be used to add a logo to the back-end system, control settings such as the Ingredients, Table and Delivery modules and input system information such as your contact email or language toggle.
Company Details
Here you can add or change your company and address information. Please note that the subdomain name cannot be changed.

Company Contact Details
Here you can change your contact information. Please note any system emails will go to this email address.

Settings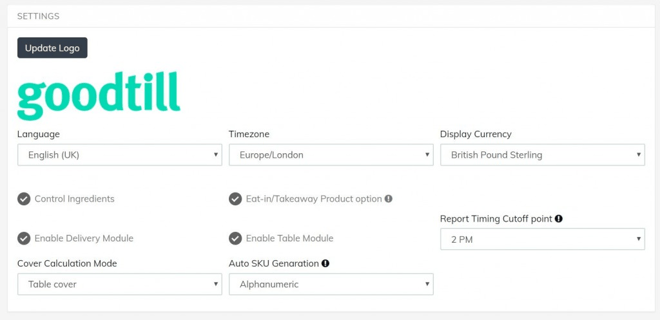 Here you are able to add a logo to your back and front end system. Please click on Update Logo, then Choose file and pick the relevant image that you would like for your system and click Submit. Please note you must use an image with max width of 250px and max height of 250px.
You can choose your preferred language, time zone and display currency.
You can enable the ingredients feature from here which will create a new tab on the left-hand side called Ingredients where you are able to take stock inventory for ingredients. For more information about this module please click here.
You can enable delivery and table modules, which once activated will show up on the front-end.
The Eat-in/Takeaway Product option can be enabled, which will open a new section when editing your product which will allow you to assign a different VAT rate and selling price on Takeaway. Please note that on the POS app, you will also need to go to the cog at the top right > Settings > General Settings > Enable Eat-in/Takeaway Product option.
Report Timing Cutoff point can be altered which will affect the default time selected on the back office reports. It is also the time that the system will run and email you your daily reports.
Cover Calculation Mode can be changed to two options:
1) Table Cover, which when opening a table will enable a prompt to select the number of covers. This will then enable the system to work out the average spend per head.
2) Smart Cover (main product), which will allow you to mark some of your products as "main" products, which when ordered enable the system to work out the average spend per head.
Auto SKU Generation controls the default behaviour when a product is created or imported and the SKU field is empty.
App Theme Colour
Here you can choose the colour to match your brand. You can choose from some preselected options, or select Custom to add in your preferred HEX value. We advise using darker colours for the best results.
Once you make any changes please do not forget to click Save settings and refresh the front-end by tapping the logo at the top left to sync the changes.