Beta Apps / Private release
The private version of our App can be downloaded using Testflight and then by using the following link:
1) Install TestFlight
Go to the App Store on your iPad and install the TestFlight application. This will allow you to install beta version of Goodtill applications.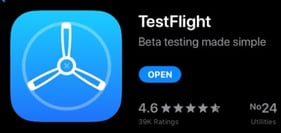 2) Open the TestFlight link
On your iPad, navigate to the link at the top of this page in Safari. Scroll down the page and click the OPEN button in the top right.


3) Install from TestFlight
The TestFlight app will then open. Click the INSTALL button when prompted. The beta version will then replace the existing App Store version of the application.


You can now launch the app from the homescreen or dock as usual.