How to setup your iZettle reader
First, ensure that you have the right card reader! The iZettle card reader 1 has a blue button at the bottom right. If it has a green tick then please have a look at the article for the iZettle reader 2.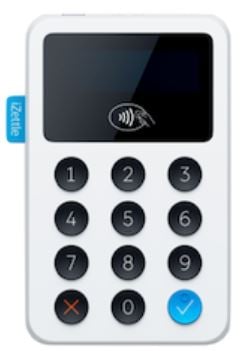 Turn the reader on via the power button at the top of the reader.
Ensure that the Bluetooth is enabled on your iPad (Settings > Bluetooth > Enable) and please also ensure that the Goodtill POS app has permission to access Bluetooth. To check this go to the Settings on your iPad > Privacy > Bluetooth > Enable for Goodtill POS.
Then on your Goodtill POS app go to the cog at the top right > Settings > Payment Settings > Enable iZettle > iZettle settings. Sign into your iZettle account (please note that the Goodtill support team won't have a record of your iZettle login details).
Select Card Readers > iZettle Reader > Activate pairing mode by holding the tick button on the reader for 3 seconds. It should then show a number on the reader's screen. Select pair on the iPad. Select your card reader using the corresponding number. Tap on the card reader with the right number and then compare the code on both screens and confirm on the iZettle reader by pressing the tick. This will pair the reader and now you're ready to take payments!